Items from Warehouse & Co.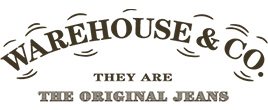 Since its founding in 1995, the Warehouse & Co. has been pursuing the theme of faithful reproduction of vintage clothing. They thoroughly research everything from a single thread to fabric, sewing and washing. In addition they are also working on size arrangements that do not erase the texture such as the ruggedness and smell at the time of production.
Origin: Japan
30 Items
No results were found for the filter!