Brand KangaROOS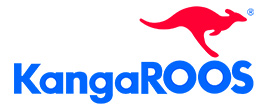 The story of KangaROOS started in 1979 with the American architect and running enthusiast Robert "Bob" Gamm. He had a crazy and innovative idea to develop a pair of training shoes with a small zippered pocket big enough to hold a locker key and a few coins whilst he ran.
Today, KangaROOS is a truly global lifestyle brand for footwear, apparel and accessories. The brand still remains true to its sports heritage and continues to challenge the basic aesthetic of design that Gamm started many years ago.

12 Items
No results were found for the filter!