Brand Y/Project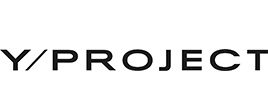 Y/Project was founded 2011 by Yohan Serfaty but since Glenn Martens has joined in 2013 the Paris-based label has combined conceptual and inventive detailing with playful silhouettes and takes on historical references.
At the core of Y/Project, Martens has since established an emphasis on individuality and independence. Fusing the energy of the street with thought-provoking silhouettes, his unique take on interpreting masculinity and femininity blends eccentric references with unisex looks that transcend versatility.

22 Items
No results were found for the filter!