Items from Deus Ex Machina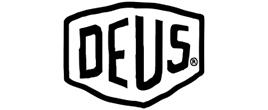 Deus ex Machina roared into Australia's cultural consciousness in 2006, with some neatly customized motorcycles and a quaint notion that doing something is more fun than just owning something. Deus ex Machina is a step bigger than a brand: it's a culture. It simply says there's no 'right way' to do individualism. Custom motorcycles are the core of the Deus philosophy. While focusing on the design and construction of bespoke custom motorcycles, Deus also promotes and celebrates a custom motorcycle culture that first appeared in Europe and America in the 1940s, a culture of pure enthusiasm born of the desire to turn the motorcycle into the ultimate expression of applied art.
25 Items
No results were found for the filter!