Items from 032c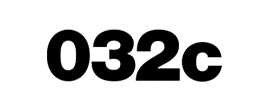 032c is a media and fashion company for the 21st century. Founded by Joerg Koch in 2000, 032c began as a magazine in Berlin. 032c now also creates ready-to-wear collections and community-catalysing experiences on a global scale. The mission of every 032c production is to inform, provoke, and activate the imagination.
The 032c universe is a place for freedom, research, and creativity, where fantasy is reality, aspiration is attainment, and everything is culture in the making. And, like any universe, 032c is expanding.

10 Items
No results were found for the filter!