Brand Our Legacy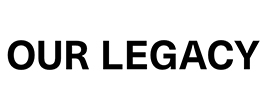 Our Legacy is an independent fashion brand based in Stockholm, Sweden founded in 2005 by Jockum Hallin, Cristopher Nying and Richardos Klarén.
Known for applying custom-developed fabrics on signature shapes, Our Legacy has amassed a devoted following over the years establishing the role of a cult brand.
31 Items
No results were found for the filter!